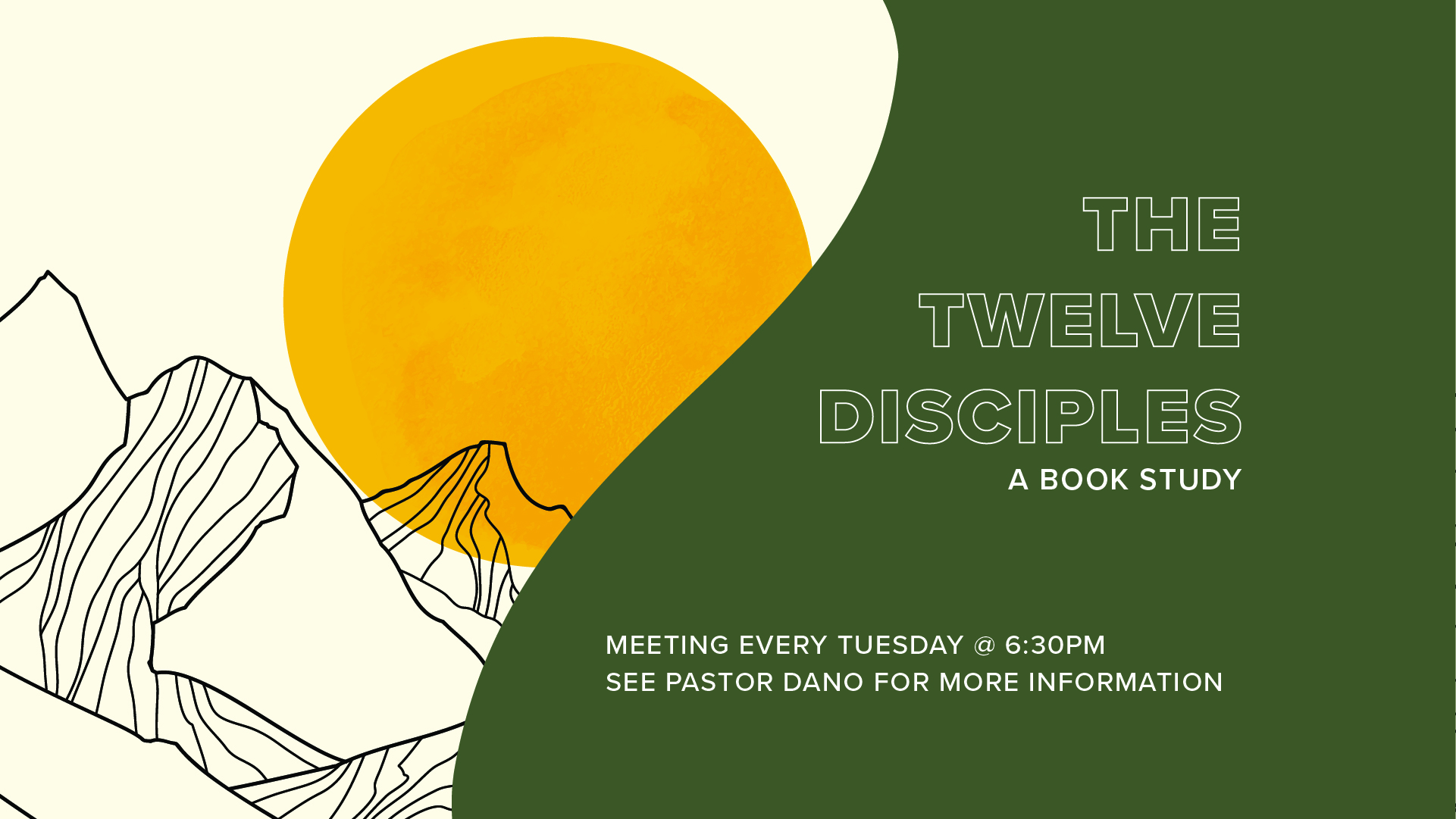 Join us for a study on the Twelve Disciples. Jesus had about three years to mold a dozen fearful, faithless men into the pillars of a worldwide movement. Despite this brief window, time in Jesus' presence had a transforming effect on each of them, and they would be changed by Jesus' power. And He wants to change us too!
We'll be meeting each Tuesday night at 6:30pm in the Children's Sanctuary beginning February 1 and ending April 5
We will be using a study guide which you'll need to order ahead of time. The cost is $11. Review the introduction and the first chapter, "Andrew, Bringing Others to Jesus" prior to February 1. If finances are an issue, please don't let that stop you. Get in touch with me and we will ensure you're able to get the book.
Here is a link where you can order the study guide: Amazon.com
Here's a snippet from the study guide: It sounds like a crazed reality television show. You have to pick twelve people from hundreds of applicants. One of them will crash out of the program at a crucial moment—and betray the leader in the process. The remaining eleven will be responsible to carry a new spiritual movement to the ends of the earth. The people you will choose aren't necessarily the brightest and the best. They don't have advanced degrees from upscale universities. Most of them work with their hands in blue-collar jobs. At least one is a low-level government bureaucrat. The sharpest member of the group is quietly sabotaging the entire operation. That scenario (from a purely human perspective) is what Jesus faced when He chose twelve men to be His closest followers. He had about three years to mold a dozen fearful and faithless men into the pillars of a worldwide movement. But Jesus had one advantage as He made His choice. He knew that the time they spent with Him would have a transforming effect on each of these men. All of them would be changed by Jesus' power. Eleven would become outspoken witnesses of Jesus' redeeming grace—and even the betrayer would be changed by his exposure to Jesus. His spirit would harden and become calloused to the power of love. This study of Jesus' followers will change you too! You will discover that the Master is still in the business of transforming lives. He can take the most fear-filled and faithless among us and empower us to be confident witnesses of his grace and forgiveness.
---
Contact Pastor DanO below if you'll be joining us so we can plan for the appropriate number of men.