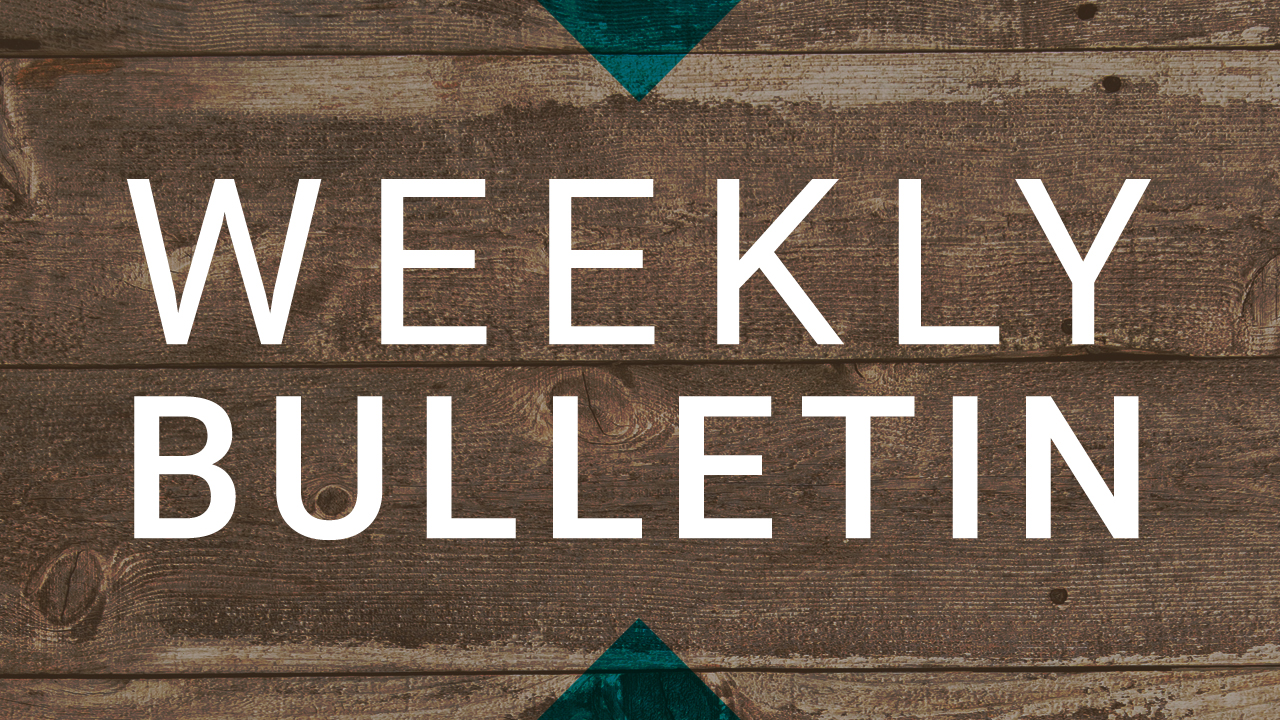 THIS WEEK
Moms in Prayer, Monday, 10am, Youth Ministry Room. Find community. Find purpose. We are mothers who, together, bring all our concerns before our Heavenly Father. We meet each Monday morning. In prayer, we know that we are not alone and this gives us reassurance and hope. Let us stand with you in prayer for your children and their schools. Click here for more info

Women's Group Study, Tuesday, 6:30pm. "His Footsteps Our Pathway"
Join us in the Main Sanctuary as we kick-off the new season of our Women's Group Study. We'll be meeting every other Tuesday night. Childcare may be available as needed. Please contact Arly no later than the Sunday prior to make arrangements. Click here for more info

Men's Group Study, Tuesday, January 31, 6:30pm. Join us for a study through 1 Peter each Tuesday night at 6:30pm in the Children's Sanctuary. There will not be an accompanying book to purchase for this session. But bring your Bibles! The first night we'll be having a BBQ potluck (weather permitting) so please bring something to share. Click here for more info

Biblical Peer Counseling, Wednesdays, 1pm-4pm. If you are struggling with an issue, or just need someone to talk to, and desire Christ-centered counsel, contact Kathy Gulley below to schedule an appointment. Appointments are available on Wednesday afternoons. Click here for more info

Roots Young Adult Ministry, Wednesdays, 7pm. This ministry is for 18-30 year old's and meets every Wednesday for a time of fellowship, worship, and study in God's word.  Click here for more info

Youth Ministry, Thursdays, 6:30pm. The High School and Junior High ministry invites all 6th through 12th grade students to fellowship with us. This ministry builds relationships with God and people through discipleship, serving, studying the bible, and worshiping Jesus! Our mission is TO KNOW JESUS AND MAKE HIM KNOWN! Click here for more info
---
COMING UP
Tecate Mission Trip Informational Meeting, Sunday, February 19 after service.  The trip will be Friday, April 14—Sunday, April 16.  $260 per person.  More info to come next week. If you need a passport, start the process ASAP. 

Home Fellowships. Now that the pandemic is by all accounts officially over, it's time for us to launch some new Home Fellowships! For those of you who have already expressed an interest in participating, thank you! I was so pleased to see so many of you looking to get plugged into a highly relational approach to discipleship. That's exactly what a Home Fellowship offers. Once the holiday season is behind us, we'll be taking the initial steps of launching our Home Fellowship ministry. If you have not already made your interest and participation level known, let us know by filling out the form using this link: Participation Info
---
OPPORTUNITIES TO SERVE
Children's Ministry. Our Children's Ministry is growing and with that grows our need for teachers, assistants, and toddler care. Contact Jesus Martinez for info.

Church Cleaning Ministry. For more information see Pastor DanO or click here.

Broadcast/Soundbooth. We are in need three teams of 3-4 people to be trained up and serve in the broadcast, sound and/or Proclaim (worship lyrics) parts of our ministry. For more information see Sean in the soundbooth or click here.