The Lord is your keeper; the Lord is your shade at your right hand. The sun shall not strike you by day, nor the moon by night. (Psalm 121:5,6)
Dear Calvary Ventura family,
We pray this message finds you and your loved ones well and keeping your eyes on Jesus, the author and finisher of our faith who will never leave you nor forsake you! Below are two items of importance we'd like to share with you going into this weekend:
It's going to be hot Sunday!
The weather report is forecasting a very hot Saturday morning through Sunday evening. As you prepare to join us for worship at our 9:30am service this Sunday, please plan for the heat. Along with your Bibles and masks we recommend bringing a hat, umbrella or anything else that will help you be comfortable and shaded. Also, bring water for yourself. Your health is very important to us and we want you to stay as cool and hydrated as possible so you can focus on what the Lord has planned to share with you.
Parking
Where do we park? There are two areas available for us to park in. You'll see in the map below, two green areas and one red area. The green areas are for Calvary Ventura parking, the red area is for our neighbors' businesses.
The majority of us will be parking in the Lassens parking lot (not the Deckers lot).

We will have parking available in the front of the church. We ask that the six spaces closest to where we are having service be left for those with wheelchairs or walking difficulties. At the Main Street entrance of our parking lot you will see signs for Bella Mucci Bridal Shop. Please do not park there at this time.

We will not be able to have "drive-in" style parking for our service at this time.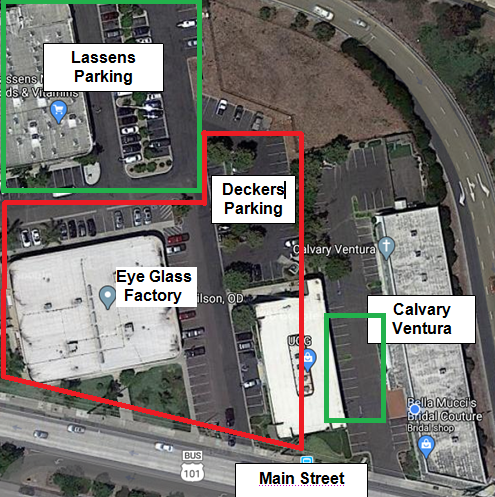 Thank you for your cooperation and understanding.  We are looking forward to fellowshipping and worshipping our Lord with you this Sunday!
If you have any questions, contact Pastor DanO below and he will be happy to assist you.